At First Baptist Church Lewistown we are passionate about worshiping Christ Jesus the Lord and King!
Certainly, we desire to be dedicated to the proclamation of the "Good News" of salvation by faith in Christ to all men everywhere.
Moreover, we challenge ourselves by the Word to example true discipleship – as Christ designed it – that His Followers be excited learners as well as devoted to good works.
Further, it is our aim to build and restore the Biblical family structure which maintains the family unit in worship services.
To do all of this we:
preach expository sermons

teach with depth and enthusiasm

live with the gospel on our lips

celebrate our love for Christ through loving one-another honestly.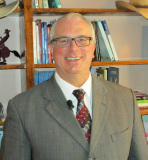 Pastor Fred Mikat came to FBC in January of 2011.  He is a Montana native; born in Glasgow and raised in Helena.  He confessed Jesus Christ as Lord in 1976.  His education includes four years of study at Montana State University in Bozeman with a major in Sports Medicine and a minor in Animal Science.  A great love for God's creatures and the Western way of life led Fred and his wife Vickie into full-time ranching near Roberts, Montana.  After finding a solid Bible-teaching church in Red Lodge, God gave Pastor Fred a new love and a new calling - to pastoral ministry.  Understanding the vital importance of Bible training to "rightly divide the Word of truth," Pastor Fred attended The Master's Seminary, graduating in 2001.  Pastor Fred is a gifted and dynamic teacher devoted to the sound exposition of God's Word and a loving under-shepherd dedicated to the spiritual development of believers entrusted by God to his care.
Pastor Fred can be reached by telephone at (406) 366.5079.
First Baptist Church Lewistown MT Location